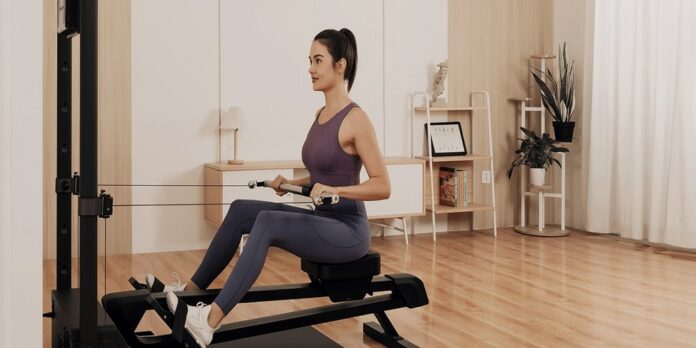 If you're looking for a way to make your fitness routine more fun and interactive, smart home gym equipment may be the answer. With so many options available on today's market – from treadmills with built-in speakers or televisions that play Netflix while we work out; resistance bands designed specifically according our needs during different exercises such as strengthening muscles using light weights…it doesn't stop there! You'll also find balance bikes which help us keep track of how much time spent exercising by monitoring calories burned throughout each day via smartphone app (or other devices).
Speediance
Speediance all-in-one digtal fitness gym monster is a complete workout system that offers total-body toning and muscle sculpting. You'll be able to use this product for a wide range of exercises such as:
Seated chest press
Seated shoulder press
Seated lat pull down
Seated tricep extension
Standing bicep curl
Standing overhead tricep extension
If you're looking for home gym equipment that will improve your workout experience, speediance.com may be the perfect solution. With its all-in-one design, professional quality workouts, and personalized feedback, you'll be able to take your fitness routine to the next level. This technology allows you to access professional quality workouts that are streamed into your home gym equipment. You'll also be able to track your progress and receive customized feedback about your workout.
Tonal
With the recent launch of the Tonal smart home gym, it's now possible to exercise at home without the need to buy or rent expensive exercise equipment. The smart home gym is an interactive piece of equipment that provides guidance and feedback during workout sessions. It's expensive, however, and not everyone can afford it.
The Tonal Smart Home Gym Bundle comes with a weight bench, workout mat, foam roller, and tricep rope. It also includes Smart Handles, which are buttons that turn on or off resistance when needed. It's essential for performing strength workouts on the Tonal smart home gym, as it's durable and can accommodate heavy weights.
Tempo Studio
The Tempo Studio smart home gym equipment is sleek, compact, and easy to move around. It's also incredibly beautiful to look at and can be placed in any room. It will look like a stylish studio, not an overcrowded gym. Smart home gym equipment has revolutionized the way people work out in their homes. And now, you can stay connected with friends and family while working out, too.
The Tempo Studio uses 3D motion sensing technology to capture the body's movements. This technology then provides real-time feedback and corrections, including recommending the correct weight for the workout. It even counts reps and suggests form based on your technique. And while the technology isn't as advanced as a live trainer, it does provide valuable information to help users improve their workout and minimize injury.
Peloton Bike+
The Peloton Bike+ is a versatile piece of exercise equipment that is a great addition to your home gym. This exercise bike is very sturdy and easy to maneuver. It has a compact footprint, is completely silent, and has front and rear stabilizers. It also features magnetic resistance and a belt drive. It also comes with high-quality accessories, including a 22-inch touchscreen with impressive graphics.
The bike also has a built-in heart rate monitor and heart rate band. The Peloton Bike+ costs $1,775 or $1,885. It uses optical technology to measure your heart rate and displays it on a touchscreen. Heart rate measurement is vital in tracking fitness metrics and for identifying your fitness zones.
Luxe fitness
Whether you're a serious fitness buff or just want a stylish, eco-friendly home gym, Luxe fitness has something to suit your needs. Their high-tech and eco-friendly products are sourced from sustainable forests and leathers, and are handcrafted using natural tanning techniques. Their range of equipment spans both cardio and strength workouts. Their Sprintbok curved manual treadmill is a great example of this.
Luxe's belt drive has Bluetooth connectivity so you can connect a smartwatch or a heart rate monitor. It's nearly silent, which means it won't disturb those around you. It's also compatible with Fitbit Premium, which unlocks additional functionality. Premium members get detailed monthly wellness reports, guided workouts, nutrition and mindfulness programs, and more.