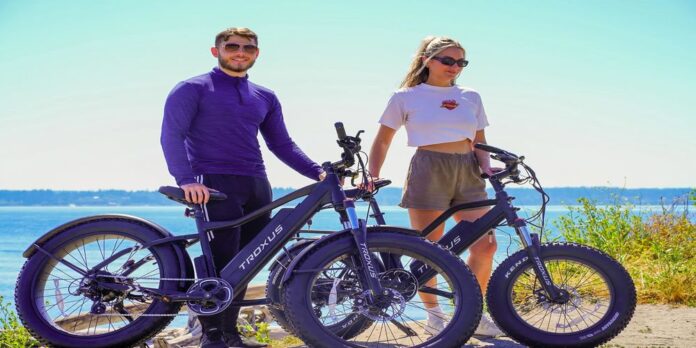 E-bike sales are increasing. Between 2022 and 2030, the global e-bike market is anticipated to increase at a compound annual growth rate of roughly 10 percent, approaching 62.3 billion US dollars in that year. This market had an estimated value of 29.2 billion dollars in 2022. Troxus, a leader in the world of electric vehicles, has consistently remained committed to the research, development, and production of innovative mobility tools, giving rise to the amazing Vulcanus 26″ E-bike.
Riders highly regard the Vulcanus 26″ E-quality bikes and performance, as they do with other bikes from the brand. Because it was made with off-road riders in mind, the bike includes two sets of lights, one up front and one down back. The taillights support the double flashing effect, allowing drivers to notice you as soon as you brake. Built-in powerful lights that provide the visibility needed for nighttime travel, bad weather, and limited visibility improve this crucial lighting technique.
The Vulcanus 26″ E-sturdy bike's aluminum alloy frame underwent a 300,000-fatigue test to ensure that it complies with EN15194's quality control requirements. This is complemented by the Classic Shimano 7-speed shifter, which gives the rider greater comfort and mobility over a variety of terrains.
The mechanical disc brake from Tektro庐 was incorporated into the design of the Vulcanus 26″ E-bike to provide riders with a smooth braking experience, quick response, and quick heat dissipation. A front suspension fork made of alloy with preload adjustment, 80mm of travel, and lockout is also included.
The E-Bike Impressive Features
For both light-duty off-road and on-road riding, an anti-puncture all-terrain tire that increases stability, lowers road noise and improves grip is offered.
Crankset guards made of aluminum offer the chain more secure.
Large, sturdy fenders are made to significantly lessen the likelihood of mud and sand spilling onto the bike and the rider's clothes.
adjustable kickstand, adjustable seat tube, and comfortable saddle
Waterproof Wiring Harness that raises the bar for the entire bike's performance.
A firm specializing in e-bikes popularly known as Troxus Mobility offer one of the best warranties available, free delivery throughout United States for 24 months, and a 15-day return policy if you're not happy with your purchase.
Troxus Mobility has undergone several beneficial changes within the firm over the past few months as part of its mission to excel as the finest in the E-bike industry. These changes include testing its techniques and responding to new improvements to retain quality and results for its clients. They can now declare with pride that they offer the ideal fusion of affordability, ethics, professionalism, thoughtful solutions, knowledge, value for money, and high-quality services.
The raving reviews the Vulcanus 26″ E-bike has received from its users perfectly exemplify this outstanding service.
It is of great value. We ultimately bought the Troxus Bikes after thoroughly studying several different brands, and they are worth the money. The bikes arrived extremely easy to put together. It will only take you less than an hour to complete the setup.